Maybe you want assembling your boards. We have a SMT production line which can provide the service. You just need to send us your design files, after assembling and testing we will send you a full product. Price is start from 99USD. And exact price depends on the components number and prices.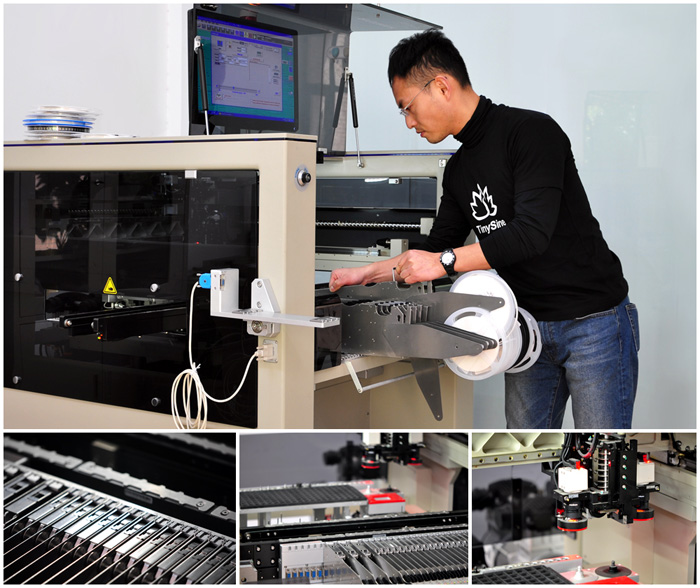 Board assembling service have a MOQ requirement. Minimum quantity is 100PCS. First, You need prepare the following things to start your order.
Electronics parts: You can evaluate your board cost by referring the parts prices on mouser or digikey. You can purchase all the parts by yourself and send them to us. We can also sourcing electronics parts for you. The cost about 70%-90% mouser or digikey published price. (If you want us provide electronics parts, we will charging 6% handling fees)
Assembling fee:
SMD parts $0.005/pin (for example: a SMD 0603 resistor have 2 pins. a SOP8 chip have 8 pins)
Through hole parts $0.01/pin
Assembing service start price is 99USD. If the assembling fees less than $99. We will charging 99USD.
If you want us test the finished boards for you. We can also provide board testing service.
Things you need to offer us:
Schmatic & PCB files or Gerber files

Testing Documents

Prototype or sample (sometimes need)
Quality:
SMT Inspection:
Using Automatic Optical Inspection (AOI), microscope and other optical inspection system, for both catastrophic failure (e.g. missing component) and quality defects (e.g. fillet size or shape or component skew). It is able to find faults such as opens, shorts, insufficient solder, excessive solder, missing electrical parts, and mis-aligned components.
Climatic Environmental Test:
DUT was tested by the high and low temperature, temperature shock, hot and humid, salt spray, the solar radiation, and specified environmental conditions. All tests verify the reliability of DUT in extreme environment .
Performance Test:
Including programming, waveform check, voltage check, RF, audio, power consumption, burst noise, volume, anti-static testing, battery charging curve, the actual charging and other verification test. All tests would cover the basic performance.
Write a review
Your Name:
Your Review:
Note: HTML is not translated!
Rating:
Bad
Good
Enter the code in the box below:

Top