PCB Available Options
---
PCB Design Files
You can upload the design files or e-mail us your design files along with your order number in the subject.
I.E. Subject: Order No.****: PCB design files
e-mail: PCB@PCBYES.com
Recommended software: 99se, EAGLE, PADS, CAM350
Accepted file formats: .ddb, .pcb, .brd and .gerber
PCB Dimensions
The PCB dimension (both length and width) must be within the PCB size option. for example: 5cm x 5cm. The PCB shape does not have to be rectangular. but the size of your PCB design should fit within a 5cm x 5cm square.
The maximum size that can be accepted is 1200mmx600mm.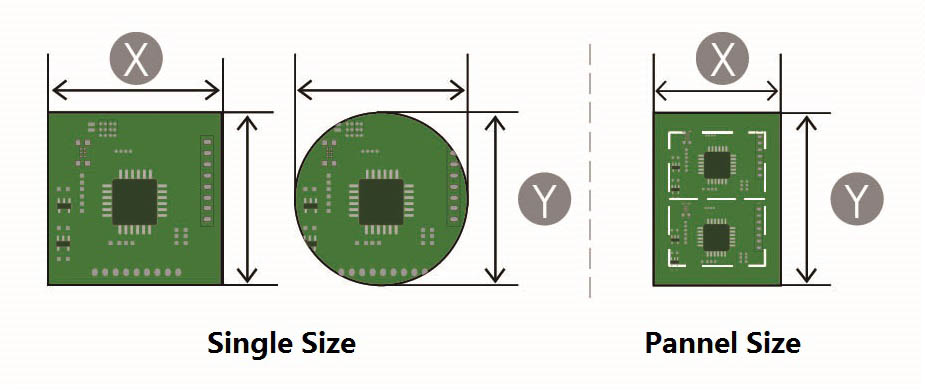 Process Time
Normal processing time: 2 layers - 4-5 days; 4 layers - 6-7 days; 6 layers - 6-8 days; 8 layers - 7-9 days.
24hours: Only for 2 layers PCB samples, Normally we can send out in 2-3 working days.
48hours: Only for 2 layers PCB samples, Normally we can send out in 3-4 working days.
If your PCB Qty >30PCS. May need more processing time. We don't provide expedited service for batch PCB order in normal case. But if you really urgently need your batch PCB order, please contact customerservice@PCBYES.com to get a quote.
Panelized PCB
If you want use panelized PCB layout to save the cost. Please make sure the V-Score line must be a straight line from edge to edge.

Design Requierments
1. Gerber files needed:
Top layer:*.GTL
Bottom layer: *.GBL
Solder Stop Mask top: *.GTS
Solder Stop Mask Bottom: *.GBS
Silk Top: *.GTO
Silk Bottom: *.GBO
NC Drill: *.TXT
The board outline needs to be included in at least one layer. Please indicate where your outline is located.
The Gerber file must be RS-274x format.
2. Design Rules
Minimum track width: 6mil(0.15mm)
Minimum spacing: 6mil(0.15mm)
Minimum vias specifications: pad:20mil(0.5mm)/hole size:12mil(0.3mm)
Write a review
Your Name:
Your Review:
Note:

HTML is not translated!
Rating: Bad Good
Enter the code in the box below: